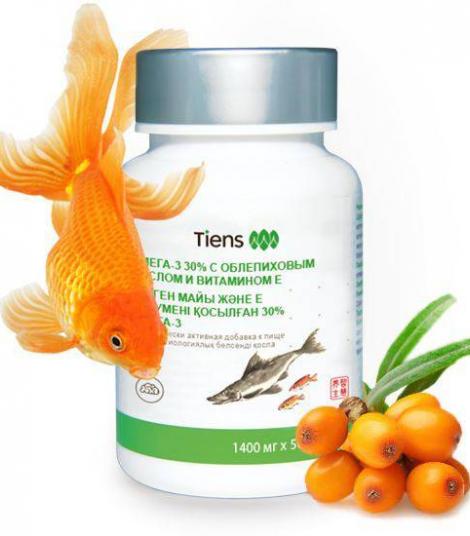 Omega 3 - Tiens Russia
Product available:
10 шт.
TIENS Omega-3 is a high quality dietary supplement which combines the nutritional benefits of fish oil, sea buckthorn oil and vitamin E. This well balanced formula allows easy absorption and has multiple benefits to wellbeing. The main ingredient of TIENS' Omega-3 is fish oil, which is a valuable and arguably irreplaceable element of our diet.

Fish Oil contains vitamins A and D, but its beneficial properties result primarily from a high content of omega-3 fatty acids. Omega-3 fatty acids belong to the group of essential fatty acids (EFA s).

Supplementing diets with essential fatty acids is important, particularly the valuable omega-3 fatty acids EPA (eicosapentaenoic acid) and DHA (docosahexaenoic acid). EPA is necessary for transmission of information between nerve fibres. DHA demonstrates many positive influences such as lowering the level of triglycerides in the blood. A deficiency in DHA lowers the level of serotonin in the brain and may cause the occurrence of mental and nervous system diseases.

Sea buckthorn oil. Sea buckthorn grows mainly in Europe and Asia and is one of the oldest plants on Earth, evolving over 200 million years. The seeds contain high levels of antioxidants such as vitamin C and E, and flavonoids.

Ingredients:
Fish Oil, Sea Buckthorn Oil.

Benefits:
Beneficial to the cardiovascular system.
Reduction of blood pressure.
Beneficial for preserving eyesight.
Anti-Inflammatory properties.
Promotes Healthy skin.